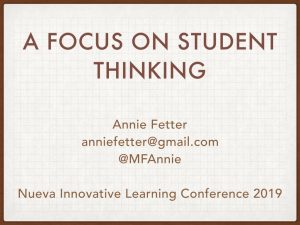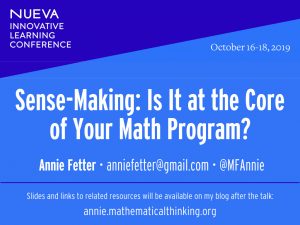 I spoke twice at the Nueva School's Innovative Learning Conference last week.  On Wednesday, we dug into lesson study in a SFUSD elementary school.  My profound thanks to Joe, Karen, Rashida, and especially Lauren and her brave and mathematical students for sharing their math lesson with us.
I had a full day Thursday.  I made a new friend in Lisa Gale, who is the Chief Program Officer for StoryCorps. (We shared an Uber.)  We mostly talked about math and her own children's attitudes about doing math and thinking about themselves as mathematicians.  I'll be doing some listening to the stories already on StoryCorps that focus on people's math experiences, but am also thinking about ways to get some of the stories of our robust math education community out to more people beyond our little universe.  I went to a couple of sessions (hi, @ablinstein!), then gave my own session.  Then I spent the whole next session talking math and learning with my college classmate Karen, who came to my session (and who teaches in New Jersey).
Here are links to my slides and to a number of resources that I mentioned.  If there is something you were hoping I would point to that isn't included, just leave me a comment and I'll add it in.
My Wednesday slides: A Focus on Student Thinking
My Thursday slides: Sense-Making: Is It at the Core of Your Math Program?